DVD Burning Xpress - making home movie DVD
What People Say
"DVD Burning Xpress is so easy that anyone can use it - No need to learn to work with complicated software. It works in just a few quick steps and takes only minutes, even seconds!"
-John Smith
Reward By Expert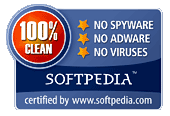 Recommendation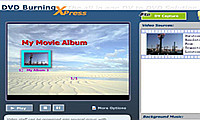 AnvSoft DVD Burning Xpress is an easy-to-use program for making home movies.
The DVD Burning Xpress combines with video trimming tools, video editing and DVD burning applications.
You can import videos from DV camcorder and add video clips from computer drive. Video editing function, transition effects, and DVD menu templates, all together make it easy to create home movies for watching on TV.
DVD Burning Xpress supports both DVD and SVCD discs, NTSC and PAL TV systems.

What you can do with DVD Burning Xpress ?
DVD Burning Xpress is the easiest and quickest way to turn your videos into high quality DVD or VCD movies. It enables you to build your movie with a few simple drag-and- drops, delete bad shots and include only the best scenes and then burn your movie via the CD or DVD disc which can be played on most DVD players connected to TV. with DVD Burning Xpress, you can:
Import and capture videos and audios
Create video slideshows with a professional look
Convert videos to popular video formats including AVI, WMV, FLV, SWF, MP4, MPEG-1, MPEG-2, 3GP and 3G2
Rip DVD and burn videos onto CD or DVD disc

Key features of DVD Burning Xpress include:
Import and Capture Videos and Audios from Anywhere
Archive precious memories and valuable data in one click
Variable Bit Rate (VBR) maximizes disc space by squeezing the highest quality video onto a disc
Automatically add convenient chapter points. Base them on DV tape stops and starts, scene changes or at fixed time intervals. Or simply insert a chapter point at any time during the DVD creation process
Pre-select a Menu Template and your movies will automatically be inserted in your menus for ready-to-view discs.
Select and customize menu layouts with titles, thumbnail frame styles, buttons, and video backgrounds and save it for future use
Add the excitement of full-motion menus with motion buttons and backgrounds with real-time preview. To liven up menus, add background music in WAV, MPA and MP3 formats
Express yourself with creative titles and add Hollywood-like transition effects between each scene to give your movies more impact
Burn your videos on DVDs or SVCDs that are playable on most home DVD players or on any computer
Delivery
Keycode
File Size
26.2 MB
Version
3.30
Platform
Windows XP, Vista & Windows 7
Supported Input Formats
Raw videos from DV
Video clips
AVI, Divx AVI, VOB, MOV, WMV, ASF, RM/RMVB
Supported Output Formats
DVD or SVCD
ISO image file
System Requirements
SP2 for Windows XP
Personal or multimedia computer with a 1.5 gigahertz (GHz) or higher processor
256 megabytes (MB) or higher of RAM
20.0 GB of available hard-disk space or higher
CD-ROM or DVD drive
XGA (1024x768) or higher resolution monitor
DirectX 9 or later graphics support
Click the thumbnail to view larger image
With DVD Burning Xpress, you can create home movies on DVD/SVCD in a few steps:
Step 1: Adding videos
You can import videos from DV camcorder or add video clips from computer drive. DVD Burning Xpress supports AVI, Divx AVI, VOB, MOV, WMV, ASF, and RM/RMVB video formats.
If you encounter problems when import supported video clips to DVD Burning Xpress, please make sure DirectX runtime is installed. Otherwise please download and install the runtime from http://www.microsoft.com/directx.
Step 2: Trimming videos
The length of video clips added to the project can be trimmed to fit your requirement. You can also adjust the order of the video clips according to a storyline.
Step 3: Adding transition effects
DVD Burning Xpress provides more than 260 transition effects for decorating your movies.
Step 4: Selecting DVD menu template
Now comes to the last step before burning your movies to disc, selecting a DVD menu for the movie. DVD menu provides a navigation to the movie when playback on TV. DVD Burning Xpress offers more than 50 DVD menu templates for your selection.
Step 5: Burning Movies on CD/DVD
Everything is ready now. Insert a blank disc to the burner drive, select DVD or SVCD as output, and click the Burn Now to complete the creation of your DVD movie.
DVD Burning Xpress supports DVD-R, DVD-RW, DVD+R and DVD+RW discs.
© 2005-2023 Anvsoft Inc., All Rights Reserved.