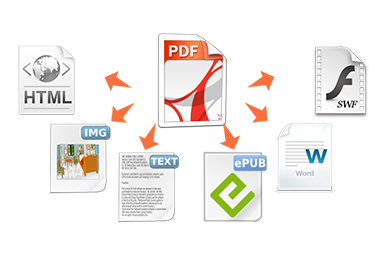 Convert PDF to 6 Formats Accurately
- 6-in-1 PDF Converter. Convert PDF to editable Text, Word 07 (*.docx) and HTML files, to EPUB eBooks for reading and sharing on eReaders like iPad, iPhone, Sony Reader, Android phones, Kindle Fire, etc. to common formats of images(from PDF to JPG, PNG, GIF, BMP, TIFF), and even convert from PDF to SWF files.
- Preserve high quality. The output files preserve all the original layouts, text content, images, and hyperlinks; after conversion, you can edit the output files in Text, HTML editor, etc. to further optimize the files to your own requirements.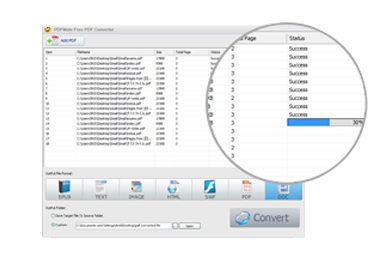 Save Time with Batch Conversion
- Batch conversion mode. convert even hundreds of PDF files at one time, fast but accurately. The output files are always super good and preserves original quality of images, text, vector drawings, etc.
- Simple program interface. Easy to use and effective to convert. With the user-friendly program interface, all you need to do is 1-2-3 click: Add PDF > Select conversion type > Click "Convert". Then you can finish converting from PDF to Textdocuments, EPUB Ebooks, HTML files, etc. like a Pro within seconds.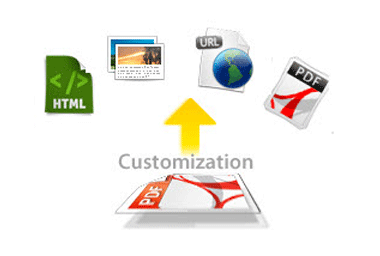 Powerful Customization to Perfect Files
- OCR: you can enable OCR to convert scanned PDF files. Two recognition modes are provided.
- PDF to EPUB: you can extract all content from PDF to EPUB eBooks just the same with the original, or make new content without images, hyperlinks, etc.
- PDF to Image: you can either convert PDF to sheets of images with all original content on them, or only extract images of the original files for use.
- PDF to HTML: you can extract all, or ignore the images, hyperlinks, etc. to make your own HTML for preservasion or for editing.
- PDF to PDF.: you can restructure your PDF file by modifying its layout size, page arrangement, merging multiple PDF files into one, adding password protections and etc.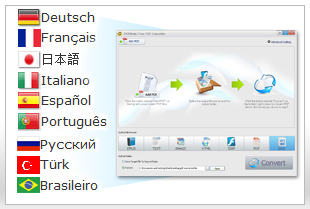 Multi-languages Supported
-Convert all languages of PDF files. PDFMate PDF Converter Free supports converting PDF files in all kinds of languages: English, Japanese, Traditional Chinese, Simplified Chinese, Korean, Latin, Turkish, Greek, German, French, Italian, Portuguese, Spanish, Russian, Polish, Czech, Slovak, Ukrainian, Bulgarian, Croatian, Romanian, etc.
- Built-in Help document. Whenever you want to check the details of the program, you can find the built-in help document for reading.