AnvSoft PDF Merger Free - Combination of PDF Joiner, PDF Breaker, PDF Encrypter, etc.
What People Say
"I love this PDF merge software. It helps me extract pages from other PDF files and encrypt with password. Really easy and practical program!"
- Frank
Reward By Expert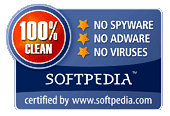 Recommendation
PDF Merger Free
PDF Merger Free is a free but powerful 5-in-1 PDF application, combining functions of PDF Merger, Image & PDF Joiner, PDF Breaker, JPG to PDF Converter, and PDF Encrypter.
PDF Merger Free is easy-to-use and provides multiple customizing functions, which help users make personalized and perfect PDF file by specifying PDF page ranges, setting output paper types(A5, A4, A3), arranging page content to save paper with layout types of 2-in-1, 4-in1, etc. The output PDFs preserve high quality and you can add both Open Password and Permission Password for editing, copying, and even printing.
If you want to convert PDF files to other format of files such as Text, EPUB, JPG images, etc. try PDF Converter Free.
Merge PDF, Split PDF, Encrypt PDF
- Merge PDFs: Support merging any number of complete PDF files / specific pages from multiple PDFs into a SINGLE one, easily, quickly, and accurately.
- Split PDF pages: Break PDF and specify your desired pages from original PDF files, to make your own content.
- Encrypt PDFs: Add password/encryptions to PDF files. You can add both Open Password for accessing and reading the personalized PDF and Permission Password for editing, copying and even printing it. Only those you told the password have the permission to open, read, and make use of your encrypted PDFs.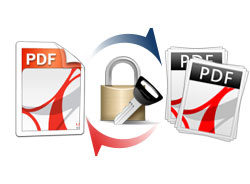 Add & Convert Image, TO Splendid PDF Files
- Join PDF files with common images: Joining PDF files with common image files in all popular image formats, including JPG, JPEG, PNG, BMP, TIF, TIFF, etc. then make your formar plain PDF file into fantastic new files with RICH image illustrations.
- Convert Image to PDF: Not only add images with PDF files, but also direct convert seperate IMAGE files to PDFs. For example, you can convert scanned images of invoices bank statements, contracts or other image sheets to PDF format of files for documenting.
Save Time, Save Paper, Save Money
- Direct drag-and-drop style of loading files helps you add original PDFs and images fast beyond imagination. You can also click the button "Add Files" to load your source files. Support merging and converting PDF files in batch modes.
- Three modes of output settings for target PDF sheet - 1-in-1, 2-in-1, and 4-in-1, which help to shrink original PDFs to more exqusite files and save space with less sheets, thus you need less paper when printing the PDF files.
- Totally FREE of charge. This free PDF merge software aims at providing longterm solutions for users' need, and without any cost in futural updates.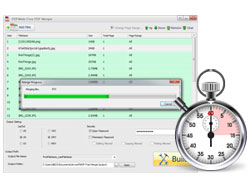 Other Features
- User-friendly interface, which helps you merge and convert PDFs 7 image files easily within clicks: Click to add source files > Specify page range, customize for output sheet style > Add Password for reading, editing, copying, and printing > Choose target location, and Click BUILD to start the merging and conversion.
- Program in Multi-languages: English, German, French, Japanese, Simplified Chinese, Traditional Chinese, etc. Easy and clear built-in Help guide within the program, which helps to merge and encrypt PDF files within clicks and with perfect quality.
Delivery
Free
File Size
5.21 MB
Version
1.07
Platform
Windows XP, Vista & Windows 7
Supported Input Formats
PDF, JPG, JPEG, PNG, BMP, TIF, TIFF, etc.
Supported Output Formats
PDF
System Requirements
OS
Windows XP, Vista & Windows 7
CPU
1G Hz Intel or above
RAM
At least 512M physical RAM
Click the thumbnail to view larger image
3 Simple Steps to Merge or Split PDF Files
Preparation: Download PDF Merger Free, then install and launch it.
Step 1: Import Source Files
Click Add Files button to add PDF files for merging. You can also add image files in formats of JPG, JPEG, PNG, BMP, TIF, TIFF, etc. if you want to join PDF with images or direct convert images to PDF files. You can import as multiple files at one time.
Step 2: Customize Settings
Specify Page Range: If you want to make use of the complete source PDF files, skip this step. If you only desire to extract some specific content from the original PDF files, you can click the "Change Page Range" at the top-right toolbar, and specify the pages you want.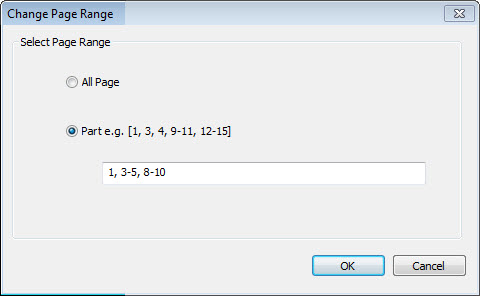 Select Layout Settings: You can choose to output PDF content for A3, A4, and A5. As for content arrangement on single sheet, you can choose to merge 1-in-1, 2-in-1, 4-in-1, to save space and especially save paper when you need to print the PDF files.
Add Encryptions: Click Open Password to set password for accessing and reading your merged PDF file; click Permission Password to set encryptions for editing, copying, and even printing it. Only people you told the password have permissions to read or use the encrypted PDF files.

Step 3: Choose target locations & Start to merge
In the Output Path, you can edit the file name for your merged PDF file.
Click the button "···" to set for your output PDF locations.

Click the button "Build" to start merging or converting your files. Done.
© 2005-2013 AnvSoft Inc., All Rights Reserved.