Any Video Converter for Mac - Video Converter for Mac OS X converts video to any formats
What People Say
"Use this video converter software to convert video files into the formats you need to watch on TV, load to a cell phone, put on a website, watch on your portable device and much more. In fact, the possibilities are endless using this powerful video file converter."
-Mike
Reward By Expert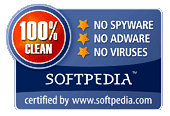 Recommendation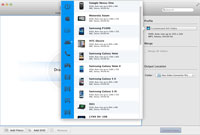 Any Video Converter for Mac is an universal user-friendly video converter software for Mac users.
This professional Mac video converter can convert between almost all video formats including AVI, MP4, FLV, MPEG1/2/4, WMV, MOV, 3GP, etc. With these various output formats, Any Video Converter is excellent for almost all popular video players such as Apple iPhone, iPad, iPod, Apple TV, Sony PSP, PS3, Microsoft Zune, Moto Xoom, Samsung Galaxy Tab, Creative Zen, and Mobile Phones.
Features

Support almost all popular video and audio formats
Any Video Converter for Mac converts video files including AVI, MP4, MOV, MPEG, 3GP, ASF, FLV etc to other popular formats you desired.
It can also easily convert between MP3, M4A, AAC, AC3, WMA, WAV, FLAC files on Mac.

High conversion rate & High output quality
Just with a few clicks, you can convert your favorite videos to avi, mp4. mov, mpeg. Flv, 3GP, MP3. AAC. M4A etc.
With high performation on the conversion speed and output quality, Any Video Converter for Mac does a perfect job for you.

Extract audios from video files
Any Video Converter for Mac is able to help you split audio files from videos and save them as MP3, WMA, M4V, M4B, AAC. AC3 etc. on Mac OS X.

Compatible well with most portable devices
There are several optimized profiles for Apple iPhone, iPod, iPad, Apple TV, Sony PSP, PS3, Microsoft Zune, Archos, iRiver PMP, Creative Zen, BlackBerry Mobile Phone, Moto Xoom, Galaxy Tab, etc. with different quality in the software which can be used directly without any further settings.

Customize video as you like
Any Video Converter for Mac allows you to crop frame size to remove black bars and retain what you want. You can either use intuitive drag-and-drop cropping window or set crop area size, left margin and top margin to achieve the goal.
You can also trim video as you like, and add both text and picture as watermark on the video as you like.

Batch Conversion supported and highly customized conversion
Any Video Converter for Mac supports converting multiple files in one conversion. And it allows you customize output parameters for target files, like bitrate, frame rate and sample for output audio files.

Compatible with most popular Mac OS
Any Video Converter for Mac is specifically designed for Mac users. It's compatible with the older Mac OS X 10.6 Snow Leopard, the 10.7 Lion, even the latest 10.8 Mountain Lion. And it will keep pace with any Mac new system.
Delivery
Keycode
File Size
Intel Version: 82.2MB PPC Version: 39.6MB
Version
6.0.1
Platform
Mac OS X 10.6 or above
Supported Input Formats
Video Formats
3g2, 3gp, 3gpp, 3gp2, asf, avi, divx, flv, m1v, m2p, m2t, m2ts, m2v, m4v, mkv, mod, mov, mp4, mpe, mpeg, mpeg2, mpeg4, mpg, wmv.
Supported Output Formats
Video Formats
.mp4, .avi, .flv, .wmv, .3gp, .3g2, .mpg.
Audio Formats
.mp3, .ogg, .wav, .aac, .wma.
Supported media players
Apple iPod, iPhone, iPhone 3G, iPhone 4, Apple TV, PSP, PS3, PSP, Sony Walkman, Zune, Creative Zen, Archos, iRiver, Sandisc Sansa, Xbox 360, Nintendo Wii, Xoom, Galaxy Tab, Android Phone, Gphone, BlackBerry Phone, Nokia, Windows Mobile, Flash Video, Toshiba Gigabeat.
System Requirements
OS
Mac OS X 10.6 or later
CPU
1G Hz Intel or PowerPC processor, or above
RAM
At least 512M physical RAM
Monitor
1024*768 resolution display or higher
Online User Guide of Any Video Converter for Mac
Add Video/DVD: Click the button to load your video or DVD movies; also you can also drag files to the list directly from your disc or other location.
Convert Now: Convert your video by clicking this button.
Online Video: On the Online Video Interface, there are 20 websites' icons are listed, and those video websites should be downloaded.
Download: Click the Add button to paste your favorite video URL to start download.
DVD Creator: Following the Quick Guide on the interface.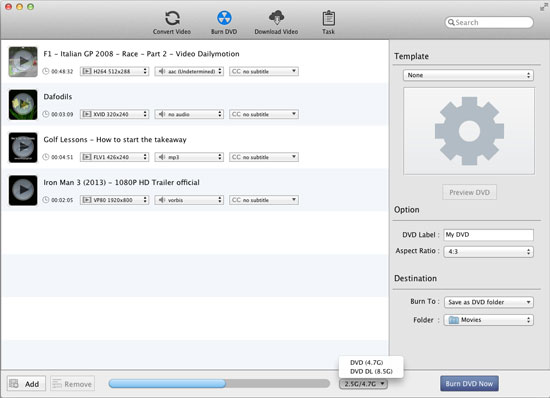 Remove Videos: If you don't convert your video, you can drag the video or movie out of the application, or click the "x" button to remove.
Clip Videos: Click "Profile Setting" icon (the left one on the artwork, it will popup a window, under the "General" tab, there is a "Start Time" and a "Stop Time". Changing the time would clip videos. And please remember, after changing the time, please press "Return" on keyboard to make the area blue like the picture below shows.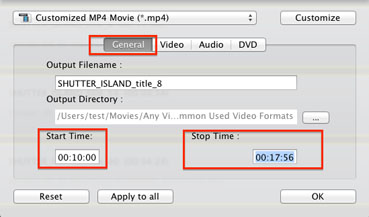 Merge Videos: Drag a video and drop it onto another one until a "+" icon appear, they will be merged into one file. To change the order of the files in the merged file, drag one video to the other until a blue-and-white line appears.
Unmerge Videos: Drag the video out of the merged file until you see a blue line. Or just click the remove "x" icon. Then the videos will be unmerged.
Add Effect: Click "Edit" icon (the right one on the artwork), and it will popup a window, there you can change Zoom Type, add effects, enable watermark or picture, etc.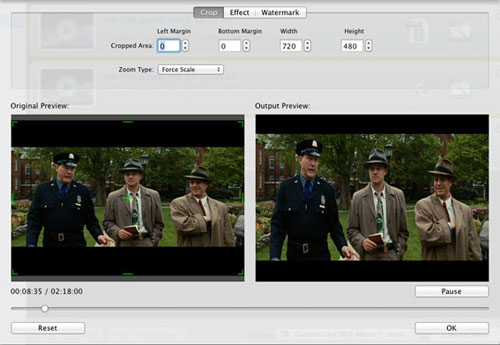 Crop Videos: Modify the green frame in the "Original Preview" window, or type in numbers in the Cropped Area.
© 2005-2012 AnvSoft Inc., All Rights Reserved.